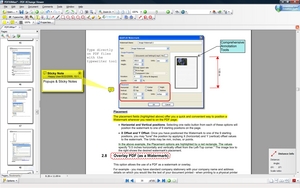 There are a number of PDF solutions on the market, not just Adobe. Many are free and offer viewing of PDFs, annotations and editing. Some features require the license to be purchased.
The PDF solution I use is
PDF-XChange Pro
from Tracker Software. Their corporate bundle offers great features and for the price is well worth it.
The latest add-on includes
full-OCR
or character recognition. This allows an image PDF, or a scanned PDF to be converted to a fully searchable PDF so you can cut and paste text from the document into an email or a word processor. The ability to
merge another PDF document at printing time
is also cool. This allows a letterhead to be merged with a document when it is printed so you have a perfect letter ready to be emailed out.
No more printing!
This can be sent as a zipped PDF file or simply a PDF.
The PDF Viewer is free but upgrading gives you a load of features include editing of the file so pages can be removed or added. The viewer can plug into your browser for default viewing of PDF's on-line.
For a full list of product comparisons visit:
http://www.tracker-software.com/pdf-xchange-products-comparison-chart
The licensed PDF-XChange Viewer 'PRO', is a PDF creator in it's own right, allowing users to create PDF files directly from scanners, image files and can even take a .txt or a .rtf file and convert it to PDF or build your PDF document from scratch.
OCR functionality supports a base language set of English, French, German, Spanish and Chinese (S&T).
You can
download the free viewer
but recommend upgrading to the Pro Viewer. Pricing for 10 users starts US$45.15 per use or US$58 including 3 year's of upgrades. Contact me for further information or to buy.