Cloud computing has opened the door for businesses in Asia to save thousands of dollars on their telephone systems capital and operational expenditure.
We have recently worked on three projects that had traditional Avaya or Nortel systems installed around the region. The companies claimed their systems were expensive to purchase and maintain as well offering limited functionality in this modern day of cloud computing and mobile access to data.
In each situation our proposal was looked at with skepticism. May be even a joke. For example, for one prospect based in Singapore, our initial bid was around S$13,000 whereas the vendor offering a traditional, in house PBX with integration to Salesforce was charging S$90,XXX before the standard discounts kicked in.
How could the price difference be so large? We were asked if we were really offering exactly the same thing, and of course we were, and more. We just did not have the big price tag associated with proprietary systems!
Can you imagine the cost savings for our second customer with 5 regional offices all using Avaya, this really was thousands and thousands of dollars.
"Businesses now rate Email as more mission critical than their office telephone system"
It was not long ago installing a CRM system would cost you US$30,000 to get started, a Microsoft Exchange email server may be US$8,000 whereas today email costs about US$5 per month and CRM can be as low as US$12 per month per employee. So why is it people continue to pay the earth for outdated and proprietary telephone systems? Is it because the people you ask this question of have an interest in the status quo? Is your incumbent telecom sales person, who earns commission selling you systems, going to recommend a solution for US$10 vs US$500? No!
With the shift in the communication medium to primarily email, many businesses would accept their telephone systems being unavailable for a period but they could not accept the email being unavailable. So why spend so much money on outdated phone systems when email is now more mission critical then the telephone?
Cost Breakdown
VoIP systems can take advantage of new technology called SIP trunking. This provides a business with the ability to connect to the public telephone system via an IP or Internet connection. This typically replaces T1 and E1 cards and lines. So a US$500 per month connection could become only US$8 or thereabouts. This does depend on the country you are located in. Then you expand that concept and have your Korea, Tokyo, Shanghai, Singapore and Hong Kong offices all connected to your telephone switch for less than US$100 per month, you can start to see where the savings can begin.
The second cost saving comes in the IP-PBX or telephone system itself. We offer CloudPBX services from US$99 per month for 10 extensions and US$189 per month for 30 extensions. This is also an operational expenditure, not capital expenditure. We offer an outsourced, centralized management of your telephone system.
Using a standard SIP or IP phone that can connect to many different IP PBX systems are always going to be cheaper than phones designed for a single proprietary telephone system. Vendors offering standard IP phones include Polycom, Yealink and Snom. However traditional vendors like Cisco and Avaya are now offering SIP as an option on many of their IP phones today, however the prices are still a premium to leading providers like Yealink. The Yealink T48G is a high end gigabit model offering a 7" colour touch screen and 12 lines for around US$300 whereas this may be the entry level for many of the traditional brands. If you are buying 80 or 140 IP phones the cost savings can be substantial.
Support for standard softphones or software installed on your laptop or iPhone that supports SIP is another great reason to use an IP based PBX. When traveling stay connected no matter where you are.
No Geographical Boundaries
As you know today, you can get your email no matter where you are in the world. Your mobile phone or laptop can communicate with your email server as soon as you are connected to an IP network. The same is now possible with an IP PBX. SIP trunking allows local PSTN (local telephone networks) to be connected to a single IP PBX hosted in the Cloud. So if the server was hosted in Hong Kong, the office in Tokyo could still make local calls as well as the office in Singapore. This is done by having one SIP trunk connection to a SIP provider in Tokyo and another connected to a SIP provider in Singapore. The IP phones in Tokyo and Singapore would be connected at between 50 msec and 80 msec. This is very fast and allows for quality voice calls to be experienced. All of this is done for between US$8 and US$20 per month per office.
Having a single PBX allows for free company wide communications and conference call facilities. All call recordings can be archived and managed in one location. Integration to call management systems could be done once and all offices could leverage that investment. Working from another office can be easy with the user in control of re-routing calls to a local phone without the complications of involving technical people just for a day. Your PBX can also be set up in device mode which requires a user to log in and out, just like a desktop PC. So in this way it really does not matter which office or work place the staff works from. Their phone extension will always follow them so they will always be available.
Long distance calls can now be sourced from anywhere in the world. If a company in New York is offering calls for China for 1c per minute then you can now subscribe to their service via a SIP trunk. You are no longer restricted to providers in your city.
Remote Workers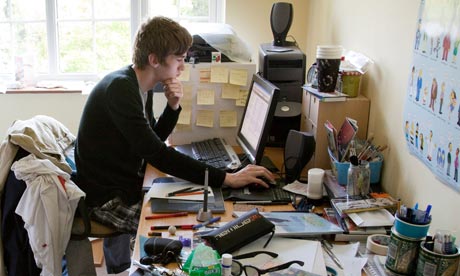 If you have home workers involved with your operations then they can be connected to your office systems via cloud computing. Open the browser at home and you can access corporate email, files and CRM. Using a hard phone or softphone, home workers can have calls transferred to them, participate in conference calls, receive voicemail and be connected at almost no cost.
We are currently saving businesses in Asia thousands of dollars on their telephone systems and giving them a lot better systems than they have today. If your company wishes to learn more please check out our CloudPBX website -
www.cloudpbx.asia
.
Visit
www.cloudsolutions.asia
for all our cloud computing solutions.